So I know I'm late to this rodeo, but it's not because I don't wholeheartedly believe in the benefits of the
5 A Day Books challenge
. We actually have been doing something like this for a while, but consider me officially in.
Normally, I like to have a theme for the week when we go to the library. I pick out the books that I have written down and then Logan will select ones that he finds interesting. This week the five books we read every day are a mixture of his picks and mine.
The Mixed Up Chameleon, by Eric Carle
Who doesn't LOVE Eric Carle?
The Mixed-Up Chameleon
, by Eric Carle, is about a little chameleon who wants to be like everyone else. In the end, he realizes that it is best to be himself. Logan adores animals so he had a great time identifying each animal in the story. He thought it was quite silly when the chameleon was mixed up.
Meeow and the Big Box, by Sebastien Braun, was one of Logan's picks. Meeow reuses a big brown box and makes it into his favorite plaything! Logan adored this book. He instantly made a connection to this book about the time we made a mailbox (which is the most recent of our cardboard box adventures).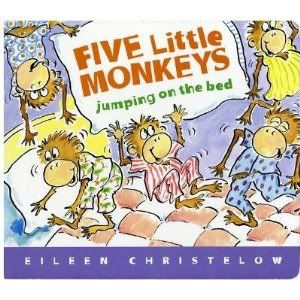 I remember singing this song as a little girl. Logan LOVED this book. It was probably his favorite of the week, and he was able to recite it pretty accurately by the end of the week.
Farmer McPeepers and his Missing Milk Cows, by Katy S. Duffield, was also a favorite. Farmer McPeepers notices his cows are missing and he goes off to look for them without his glasses. He searches high and low for them but can't find them until they return home. Logan enjoyed pointing out the cows throughout the book that Farmer McPeepers was missing!
I thought that this book was going to be a little long for Logan, but he listened to the whole thing. A little boy goes out for the day with his mom, and everywhere they go, they get a dinosaur in addition to whatever else they are buying. The pictures are well done and Logan particularly liked when the boy was able to keep all the dinosaurs in the end!
What are you reading this week? Any new favorites?