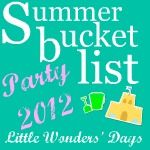 Since Memorial Day is the unofficial start of summer, I wanted to share our summer bucket list with you. Each season we make a list of fun activities that we want to try and accomplish. Little Wonders' Days is hosting a summer bucket list party, and I had to join the fun for a second year! Here's our summer bucket list:
(italics have been completed)!
Visit the aquarium
Make a homemade lava lamp
Go berry picking
Watch fireworks

Tie dye

Go to a bounce house place
Visit a children's museum

Go on a breakfast picnic

Visit a farmer's market

Go to an art museum

Visit a rose garden

Make a mud pie kitchen area

Create an outside music area

Make fizzing sidewalk chalk

Go to the beach
Play with sparklers

Make a giant outdoor water bed

Try new fruit (inspired by Creative Family Fun)
Paint rocks
Run through the sprinkler
Make a kid wash

Play with ice (a couple of ways, stay tuned)

Go to the zoo

Make giant bubbles

Make big art

Have a sensory play date

Lemonade stand (as per my kiddos request)

Bring Teddy to the beach (a pet friendly one)

Do an outdoor scavenger hunt

Play at a bunch of new playgrounds

Go on a night walk glowing style

Roast marshmallows

See an outdoor movie

Go to an outdoor concert
Go to a carnival
Make our own ice cream
Swim in a pool

Make sun prints

Have a movie party night

Ivory soap experiment

Play escape the volcano on a rainy day

Play hopscotch

Learn to ride a bike

Pick vegetables from our garden
Visit a sunflower field
Make edible sand
Paint using our feet
Go to a barbecue
Make frozen bananas

Try on lots of different sun glasses and take pictures!
I am sure that we will add on to our list through out the summer. We are excited to get started! To see even more ideas, visit our list from last year!