I know we are just starting to get involved in our spring activity list, but I can't help but think ahead to summer.
Little Wonders' Days
is hosting a summer bucket list link up. And I'm a sucker for a great list. (The ones in italics have been completed, so have been blogged about)!
Here is my bucket list for the summer!
Go to the beach
Make Popsicles
Go to the movies
Paint using our feet
Tie dye shirts
Take a picture everyday
Roast marshmallows
Go for a boat ride
Go to an outdoor concert
Make homemade soap
Play with water balloons
Play with squirt bottles outside
Whip up some edible sand
Play with colored bubbles
Pick vegetables from our garden
Make and play with homemade face paint
Have an ice cream sundae party
Try lots of different sunglasses on and take pictures
Build a sandcastle
Make frozen bananas
See fireworks
Celebrate the fourth of July
Go to a parade
Visit a farmer's market
Visit new playgrounds (in progress)
Play at a splash park
Go swimming at Grandma's house
Have a late night movie night
Visit a fair
Make smores
Visit a sunflower field
Make moon sand
Plant sunflowers
Go blueberry picking
Make our own strawberry freezer jam
Go to an outdoor movie
Fly a kite
What are your plans for the summer?
I'm linking up to: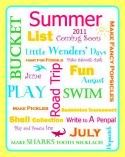 Check out
Little Wonders' Days
for more summer ideas!